This is what awaits you in the Master of Science in Medical Physics
Since the winter semester 2013/2014, the Faculty of Physics at the Technical University of Dortmund and the Faculty of Physics and Astronomy at the Ruhr University Bochum have been jointly offering the master's program "Medical Physics".
Medically relevant applications of physics are the core of the degree programme. In addition, you acquire further key competences that prepare you for your professional practice:
Analytical thinking
Independence 
Ability to work in a team
Communication skills 
Medical physicists have numerous career options: in addition to working in physics, they primarily act as interfaces between physics and medicine, for example in medical care technology, in the medical physics and medical technology industry and in the medical physics service sector.
The programme has a standard duration of 4 semesters and is divided into two phases.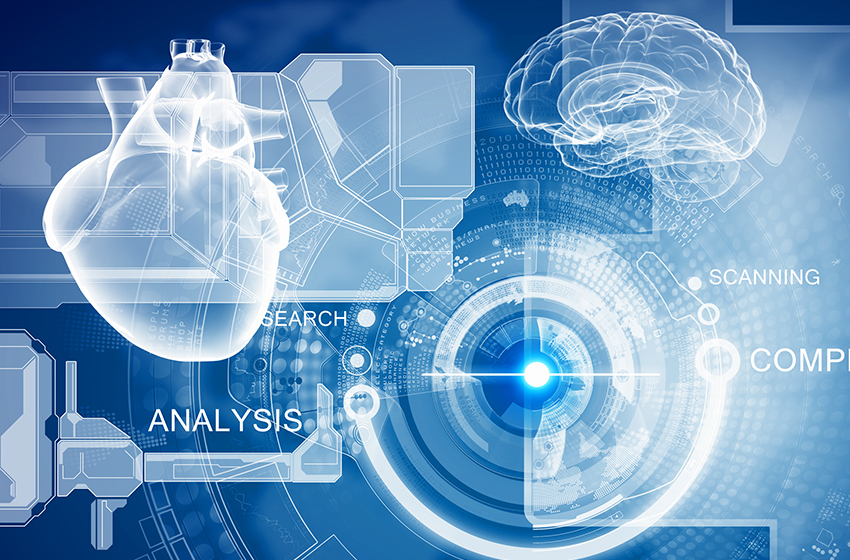 Image: Sergey Nivens/Depositphotos
The study phase
In the study phase (1st and 2nd semesters), you take modules in three different areas: statistics, compulsory and elective areas, and the focus area of medical physics.
Two modules must be taken in the focus area. You coordinate your courses together with the module coordinators of your specialisations.
The focal points:
Applied Physics in Medicine
In the specialisation "Applied Physics in Medicine" you will acquire a fundamental understanding of the physical processes that are becoming increasingly relevant in modern medicine, for example in the field of diagnostic methods, but also in the field of therapy concepts. In addition to the elementary physical processes that are required in medicine, you will also learn about special applications that you will need in your practical work as a medical physicist:
The analysis of large amounts of data
Overview of different diagnostic methods
Competence with regard to the interaction of

electromagnetic and particle radiation with biological systems
You can determine your individual focus in close exchange with the module tutors.
Example in-depth course "Plasma Medicine
You will gain an insight into the description and diagnostics of low-temperature plasmas and their use in medicine for sterilisation or modification of cells. Special attention is given to non-equilibrium atmospheric pressure plasmas. You will be enabled to evaluate systems in which plasmas interact with biological systems and to assess the individual reaction channels such as radiation damage by plasma particles, effect of UV and VUV radiation and thermal influences.
Contact persons
Advanced course "Nuclear Physics in Medicine
Prof. Dr. Miriam Fritsch (RUB)
Building NB 2/131
Tel.: +49 234 32 23541
Advanced course "Plasma Medicine
Prof. Dr Achim von Keudell (RUB)
Building NB 5/125
Tel.: +49 234 32 23680
Imaging techniques
This area is home to classic topics of medical physics, such as the individual physical methods for therapy and diagnostics with a focus on imaging. On the one hand, physiological basics of important organ/functional systems are taught (e.g. cardiovascular system, respiration, sense of sight), which are frequently affected by diseases and in whose diagnostics/therapy there is a strong medical technology penetration.
On the other hand, all clinically relevant imaging procedures used for the diagnosis of these organ systems are dealt with in their physical and mathematical basics as well as the special features of their technical realisation and their application. All steps from data acquisition to the image and its further processing and automatic analysis (computer-aided diagnosis) are taught.
The imaging methods covered are in many cases tomographic methods (magnetic resonance tomography (MRT), computer tomography (CT), optical coherence tomography (OCT), positron emission tomography (PET), single positron emission computer tomography (SPECT), ultrasound diffraction tomography (USCT)), in which sectional images are generated from the measurement of integral relationships of physical parameters by reconstruction. Furthermore, methods for processing the acquired image data are taught.
Contact
Prof. Dr. Georg Schmitz (RUB)
Building ID 04/233
Tel.: +49 234 32 27573
Biophysics
Biophysics uses a broad, interdisciplinary approach to study the structure, function and interaction of biomolecules (e.g. proteins) at the atomic level. In the post-genome age, proteins are increasingly becoming the focus of research. Alongside DNA, proteins are the "key players" at the molecular level. DNA contains the genetic information, proteins are the dynamic building blocks and nano-machines of living nature. Therefore, one goal of basic research in biophysics is to decipher the underlying physicochemical principles of their structure, function and interaction.
Contact
Prof. Dr. Klaus Gewert (RUB)
Building ND 04/596
Tel.: +49 234 32 24461
Neuroinformatics
The goal of this focus is to apply methods and basic models of neuroinformatics to problems in medical physics. In particular, this includes methods of numerical simulation of neural models as well as machine learning methods for image interpretation, classification and estimation.
Advanced computational methods from the field of theoretical medicine, particularly theory of the brain, cognition, and sensory-motor systems, also find a place in this focus. These methods are also used to develop neurally inspired technical system of information processing.
Contact
Prof. Dr. Tobias Glasmachers (RUB)
Building NB 3/27
Tel.: +49 234 32 25558
Clinical medical physics, accelerator physics
This area is home to classical topics of medical physics, such as the individual physical methods for therapy and diagnostics with an emphasis on radiation physics and nuclear physics methods. The prerequisite for participation in this focus is successful participation in the module Radiation Physics I of the Bachelor's degree programme in Medical Physics or a comparable course.
In the area of clinical medical physics, content is taught that is typically a prerequisite for medical physics experts (MPE) in hospitals. In addition to the lecture "Advanced Clinical Medical Physics" and the lecture on proton therapy, this also includes the seminar "Radiation Therapy, Nuclear Medicine, Radiology" and the practical course "Radiation Planning".
Furthermore, the "Radiation Protection Course", which is to run regularly once a year from the summer semester 2015, is very essential for granting the MPE. The aim is to offer the basic course for all students, and the advanced course accordingly only for those students who are aiming for a Master's thesis in the field of radiotherapy in a clinical setting. The modules in this area also include the lectures "Accelerator Physics I and II" and the seminar "Detectors, Sensor Technology". 
Contact
Prof. Dr. Matthias Schneider (TU Dortmund University)

Faculty of Physics
Room: P2-03-512
Otto-Hahn-Str. 4
44227 Dortmund
Tel.: +49 231 755 4139
The research phase
In the research phase (3rd and 4th semester) consists of three modules: Knowledge of Methods and Project Planning, Master's Thesis Research Internship, Master's Thesis.
In the six-month module "Knowledge of Methods and Project Planning" you work your way into the subject area of your Master's thesis. The module concludes with the submission of a topic proposal for your Master's thesis.
What you need to know before you start
When can I start my studies?
You can start your studies in the summer and winter semester.
What prerequisites do I need for the program?
To enrol in the programme, you need a bachelor's degree in medical physics or another relevant, comparable degree in a programme lasting at least six semesters (for example, a Bachelor of Science in physics). The overall grade must be better than a 3.0.
Additionally you will need:
Proof of successfully completed clinical internship* OR.
Proof of a commitment from a hospital to complete the internship*.
Proof of a counseling session with the academic advisor
Attention. This study program is open admission and has no NC. Open admission means that all prospective students get a study place as long as they fulfill the mentioned requirements and have applied/enrolled in time.
*The internship of at least three weeks should be performed in no less than three different clinical areas, always focusing on the medical physics aspects of the departments.
Do I have to apply for the degree programme?
If you have completed the Bachelor's degree programme "Medical Physics" at TU Dortmund University with an overall grade of at least 3.0, you do not need to apply and can enrol after an advisory interview.
Prospective students with a Bachelor's degree from another German university and/or another, equivalent degree program must apply via the TU Dortmund online portal. Please make an appointment with the Student Advisory Service beforehand. 
Special conditions apply to applicants from abroad, please contact the International Office of the TU Dortmund University.
Do I need special language skills?
The language of instruction of the degree programme is German. Therefore, very good knowledge of the German language is a prerequisite for admission.
Who can I contact if I have further questions?
If you have any further questions, please contact our study advisor Dr. Feldbauer.